CASEY ROBB - BLOG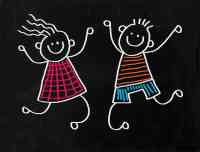 The hardest thing about parenting, for me, is the mental exhaustion. When my brain is going a mile a minute each morning, trying to remember what goes in A's lunch, M's snack, no, you can't have the mango with breakfast, it's not ripe yet, did you put your homework in your back pack, why are your shoes still under the table, it's library day, where's your book, lean over the plate -- you're dripping everywhere,
"She's a poopy head!" M, you get a point off for that, oh, A, thank you for bringing your dishes, what a good listener, how many scoops do I put -- one… two… three…
"How do you spell macaroni?" What makes the mm-mm sound? A, no feeding Ginger at the table! Darn, did I put in two scoops or three?
"If I have to eat eggs, I'm gonna barf!" They're yummy! Put ketchup on. No, not with your fingers!
"Mom, how can outer space just go on forever? Isn't that just, like, weird?" I don't know. Yes, it's weird. Stay in your chair.
"STOP IT!!!" Stop yelling. "But she's staring at me!" That's 'cause you're so beautiful. Just ignore her.
"What are we doing on Saturday?" Swim lesson. "I know, but what else? Can I have a playdate with Rachel?" I don't know, I'm just trying to get thru today!
"I can't find my shoes. I hate those shoes! (Scream, scream...)."  Get your shoes on NOW, we're running late... again…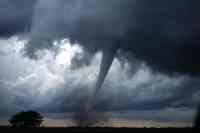 Brook Ibarra and Cow Lifted from a Country Road, April 26, 1991
(Italian Sonnet)
I don't know much of weather… why my home
in Kansas calls the siren storm, the swells
of rising heat, the thunder, super cells…
why the arctic rocky mountain zone
of frigid sky, spooling, spawns the cone
from crossing cold with the hot breath child that dwells
in the Gulf. Nor why the storm sucks up the smells
of sand and splinters, like a whetting stone.
All I know is, across the gravel road
above the emerald wind-stirred pasture, how
the clouds began to cluster. As if dreaming
a delicate dance, I saw the ghostly goad
reach and pluck just me and a single cow –
twisting, writhing, tossed in the funnel, screaming.