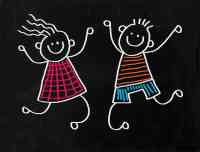 The hardest thing about parenting, for me, is the mental exhaustion. When my brain is going a mile a minute each morning, trying to remember what goes in A's lunch, M's snack, no, you can't have the mango with breakfast, it's not ripe yet, did you put your homework in your back pack, why are your shoes still under the table, it's library day, where's your book, lean over the plate -- you're dripping everywhere,
"She's a poopy head!" M, you get a point off for that, oh, A, thank you for bringing your dishes, what a good listener, how many scoops do I put -- one… two… three…
"How do you spell macaroni?" What makes the mm-mm sound? A, no feeding Ginger at the table! Darn, did I put in two scoops or three?
"If I have to eat eggs, I'm gonna barf!" They're yummy! Put ketchup on. No, not with your fingers!
"Mom, how can outer space just go on forever? Isn't that just, like, weird?" I don't know. Yes, it's weird. Stay in your chair.
"STOP IT!!!" Stop yelling. "But she's staring at me!" That's 'cause you're so beautiful. Just ignore her.
"What are we doing on Saturday?" Swim lesson. "I know, but what else? Can I have a playdate with Rachel?" I don't know, I'm just trying to get thru today!
"I can't find my shoes. I hate those shoes! (Scream, scream...)."  Get your shoes on NOW, we're running late... again…
Categories: Parenting