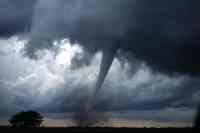 Brook Ibarra and Cow Lifted from a Country Road, April 26, 1991
(Italian Sonnet)
I don't know much of weather… why my home
in Kansas calls the siren storm, the swells
of rising heat, the thunder, super cells…
why the arctic rocky mountain zone
of frigid sky, spooling, spawns the cone
from crossing cold with the hot breath child that dwells
in the Gulf. Nor why the storm sucks up the smells
of sand and splinters, like a whetting stone.
All I know is, across the gravel road
above the emerald wind-stirred pasture, how
the clouds began to cluster. As if dreaming
a delicate dance, I saw the ghostly goad
reach and pluck just me and a single cow –
twisting, writhing, tossed in the funnel, screaming.
Categories: Poetry